"Cut then Add" has a small anniversary, decal number 50 is being prepared for release. These are Legacy Hornets seen in use from the mid-1980s and beyond. There is no need here to retell the history of use this aircraft. There is a small bonus in the form of Swiss Air Force aircraft. To order page
Options:
F-18A Hornet, 161979/AK203, VFA-132 "Privateers", USS Coral Sea, April 1986.
F-18A Hornet, 160783/NF212, VFA-151 "Vigilantes", USS Midway, November 1986.
F/A-18A+ Hornet, 161959/AF320, VFA-203 "Blue Dolphins", USS John F Kennedy, July 2000.
F/A-18A+ Hornet, 163092/NH207, VFA-97 "Warhawks", USS Carl Vinson, December 2000.
F/A-18B Hornet, 162402/NJ320, VFA-125 "Rough Raiders", USS Carl Vinson, November 2002.
F/A-18C Hornet "J-5002" (cn 1315/SFC002), Forces Aeriennes Suisses, Escadrille d'aviation 18, Payerne, Mai 2006.
F/A-18D Hornet "J-5232" (cn 1308/SFD002), Schweizer Luftwaffe, Fliegerstaffel 11, Meiringen, 2012.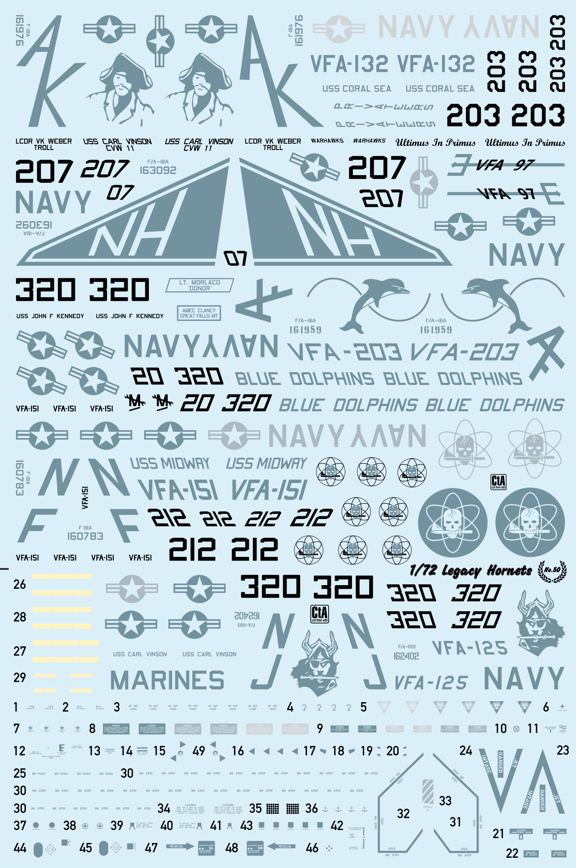 Technical data stencils for early F-18 Hornet was be released as a separate 1/72 decal No.51. To order page